PARADISE MOBILE ESTATES
About Paradise
Paradise, California was dubbed so because of how serene, sunny, and peaceful it is. Since the 2018 Camp Fire, though, Paradise might be known less for its inherent beauty and more for its resilience, pride, and the power of community. Despite widespread destruction, Paradise is rebuilding and returning stronger than before—with Monte Cristo Communities leading the charge.

A new plan crafted by the Nature Conservancy and Paradise Recreation and Parks District ensures Paradise will thrive as a safe and better fire-adapted city while simultaneously creating new greenspace and recreational areas for the community year round. If successful, Paradise will be a model for creating safer communities of the future.

While the city of Paradise is a pure display of human camaraderie and support, making it one of the most inviting and caring communities, there's much to do beyond city limits. As a mountain community, the outdoors are always calling. Hiking, fishing, and camping are just minutes away.

Take a short drive to Lake Oroville—where it's said that with its 167 miles of shoreline, you could boat along it all day and never see the whole thing—and spend the day fishing, swimming, water-skiing, and basking in the California sun. Before you head home, make sure to check out the Oroville Dam. At 770 feet high, it's the tallest dam in the country and is a true marvel amidst the Sierra Nevada foothills.

Out of the sun, you can catch a play or concert at Theater on the Ridge, or learn about the local history of Paradise Ridge at the Gold Nugget Museum. However you spend your days in Paradise, know that you'll be a part of something greater with this once-in-a-lifetime chance to help build a strong, kind, and passionate community you'll be proud to call home.
Lake Oroville
Gold Nugget Museum
Hiking Opportunities
PARADISE MOBILE ESTATES
Things To Do
Fishing
Hiking
Boating
Biking
Camping
Dining
PARADISE MOBILE ESTATES
Our Community Amenities
Pet Friendly
Pets are welcome at Paradise Mobile Estates!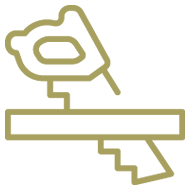 New Homes
All new homes – you pick model, design and amenities PARADISE MOBILE ESTATES
Check Out The Neighborhood